Course: MSc in IT
Year of Study: One
Nationality: Burundian
Why did you choose Kibabii University and your course?
I was keen to pursue my IT studies and decided to continue my studies further at Kibabii University, which I found providing quality teaching aimed for excellence and at the same time offering the related course on everything that I did at the bachelor's level.
Which aspects of the course do you think have been most beneficial to your career development?
My career development was helpful in a culturally diverse and global environment. Furthermore, templates such as school, work, training and social interaction have helped me understand and find solutions for IT businesses in the real world.
What is your favorite memory of KIBU?
I like so much about Kibabii University, so it's challenging to choose what I really like most. I really like the most independent departments and library in the University, as someone who likes to go for coffee and meal. I like the vibration of Kibabii University, too, something always happens such as live music, cultural weeks, seminars, art exhibitions, festivals, and more, there is never a boring moment there's so much to do. Furthermore, I really like Kibabii University's services and its global life and however, in terms of having friendly staff and providing quality education, Kibabii University is a place to be, not to mention other places you can visit in Kenya and all of these will remain in my history.
What are your plans after graduation?
I believe that there is nothing wrong with making Kenya as my home as it is now and working here, as I am very happy here. Even if I'm not sure exactly what to do now, because I have applied for a postgraduate studies at the Kibabii University, and I'm also on the look-out for a job in the city, but my main focus right now is to successfully complete my thesis and by the time that is done, I'm hopeful that I'm going to find a job next to that.
What advice would you give to students progressing from your country to KIBU?
Do everything that means stepping out of your comfort zone, if an opportunity scares you, it means it is only going to make you grow. However, getting out of your comfort zone, it is an experience everyone needs. The opportunity to travel is about to bite, and it's a sweet, soothing sting! To go out there and experience it all is so great! Don't sit in your house and coop up, or hang on to small things that will prevent you from this experience. Do whatever comes your way, no matter how big or small, experience it and don't get caught up in shyness or fear of the unknown, you'll miss too much. Join a sports team, club, church or gathering as this is the only way to meet and form local relationships. Don't get caught up in technology or things that are socially isolated, manage your time with studies and social life and you're going to get through fine. The education system tends to help you get whatever you want; it works well in your favor if you are driven and want to learn. Try to find a good equilibrium. Before you leave, don't tie yourself down; make sure that you leave everything while there, so that you can open your minds to new life. Don't be scared more than anything.
Join societies! University isn't all books and assignments. Mingle with people from different cultures and backgrounds, it is like travelling to different countries without spending money on an air ticket. Connecting with peers from different countries and cultures is a vital skill in todays globalized society.
Do not be afraid to admit when you do not know something. Ask for help when you need it, I can assure you 100% people in KIBU are so friendly. With your academic work, never feel ashamed to constantly ask for help. Not only are tutors or lecturers happy to help, you paid for their help too. Take advantage of it.
Master the art of time management. Use those 24 hours in a day efficiently. Avoid procrastination and distraction. Do not over commit yourself to extra curriculars or let your 1-hour dinner party turn into a 4-hour gossip fest.
Read about the culture shock, attend orientation and meet people at clubs of interest. Do whatever you can. Do not write off people because of first impressions, go with open mind. Kenyans commonly seem bad in terms of stealing according to misinformation, however after you get to know them, they are very nice people. If you don't say hi to them, people will always look at you like a stranger.
I would advise talking to students who have been to the same host university and ask them all the questions you can possibly think of, because the information the host university may give is quite limited.
I would also advise you to save some pocket money beforehand, because the money that is given to students to help them settle at the university may be delayed.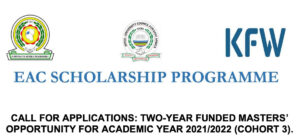 German Development Bank-KFW/East African Community (EAC) Scholarship Programme 2021/2022 for Masters Studies (Fully Funded) Application Deadline: September 17th, 2021 https://bit.ly/3sV1D4Z IUCEA hereby invites suitably qualified nationals
Read More »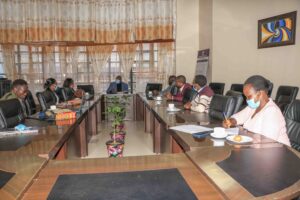 KIBU International Students who are beneficiaries of the East African Community Scholarship Programme paid a courtesy call on the Vice Chancellor, Prof. Ipara Odeo on
Read More »