Course: MBA
Year of Study: One
Nationality: Burundian
Why did you choose Kibabii University and your course?
Yes, as an orphan grew up in an Orphanage and in French system, traveling for the first time was just something impossible for me, there were the challenges but as a hardworking woman and competent, I told myself to not let them bring me down and I had to keep my head up and accepted those challenges because I knew that with the time I will realize that I have made a best choice.
What made me to choose Kibabii University was to improve my knowledge in Business Administration and I thought that it will be an opportunity for me to meet other people from different countries with different culture and to learn a lot from them such as new languages. I chose Kibabii University because I was fascinated by business administration career and I would like to continue it at Kibabii University where I have seen the courses I was interested in.
Which aspects of the course do you think have been most beneficial to your career development?
I benefited in many things such as languages, culture, leadership, planning, and managing entrepreneurial teamwork and network. And these brought me opportunities to know how to reinforce building relationships and accelerate my communication in creating a good mood in work place and a performance in my career of business. It was helpful to have the important information in business courses like in Marketing, Strategic, technology, Finance, Accounting, Human Resources, etc. Studying at KIBU has improved my initiative and responsibility in business administration and also know how to approach problems and see them solved in multiple aspects.
What is your favorite memory of KIBU?
There are many things I like about KIBU. As someone who likes quiet place, to live in my own isolation is my favorite thing I like nature of KIBU, I have met good friends which is the most important in life, KIBU has good tutors and lecturers. I also love the activities of KIBU such as: cultural week, seminars, conferences, workshops and other things to do, you can't stay inside without having occupation never, KIBU is a place to be, where you can get experience in different things.
What are your plans after graduation?
My great passion in life is using my technical know-how to benefit other people and organizations. I can't describe very well exactly what I am going to do because in a person's mind exist more objectives but after my masters I hope to get an occupation and go on with helping others as to give what I have is my talent but also I hope to get another opportunity to continue with my PhD, no matter the challenges I may face I want to learn more in business management and by making organization successful. With the degree I will get I hope it will contribute to the development of my country and also in East African Community as a researcher and a professor in Business Administration.
What advice would you give to students progressing from your country to KIBU?
You have to know who you are, what you want for your life, your vision and your purpose.

Think positively and not negatively. I say that because I believe in the power of words. When you have positive words on you, you can build your good life but by thinking negatively you will be damaged forever because your life moves on the words you say. Some people can tell you that you are crazy but be focused on your dream.

Be cool and humble, don't do things just to impress others, do what is best for you, what makes you happy not it helps to have good life but it helps to live long.

Be kind and good with others by giving service. What you offer to others will come back to you, try to be social in your life because studying is not only reading books and get marks but by creating good relationship with others from different countries and cultures, you learn a lot from them, I can say that all of these equal to success and other thing but which is hard is that every day you have to be excellent by doing what you have to do even when others can't see the good in. For example to say thanks to someone it seems like it is not important but the words "thanks" means a great thing.

Do not fear to failure because when you fail it is an experience and don't expect to get a help from your family but you have to fight for your life. I want just to encourage you to work hard and cleverly, to believe in God and to believe in yourself. Where you don't understand just ask for help don't be afraid of asking questions because I have seen even people of KIBU are so friendly, they are happy to help with the academic work.

Use your time jealously and efficiently.be brave and responsible, don't be like someone who doesn't want to do anything because if you want to succeed it will demand you efforts, sacrifice, time, risks and sometimes money. Other thing you have to know is that if you succeed it is not for you only; put in your mind that your family, your entourage and your community will benefit on it.

To finish, my advice for those from French system, you need to train yourself in learning English because nowadays English has taken place all over the world and Remember to put God first because it is Him who has good plan for you.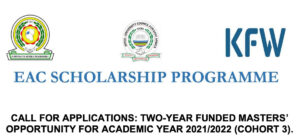 German Development Bank-KFW/East African Community (EAC) Scholarship Programme 2021/2022 for Masters Studies (Fully Funded) Application Deadline: September 17th, 2021 https://bit.ly/3sV1D4Z IUCEA hereby invites suitably qualified nationals
Read More »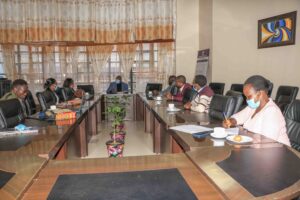 KIBU International Students who are beneficiaries of the East African Community Scholarship Programme paid a courtesy call on the Vice Chancellor, Prof. Ipara Odeo on
Read More »