Course: MBA
Year of Study: One
Nationality: South Sudanese
Why did you choose Kibabii University and your course?
The reasons as to why I choose Kibabii University it's because of its reputation in academic excellence on how to inspiring and train leaders in the region therefore Kibabii University is one of the best institutions in Western Region and field of academic knowledge. The reason why I went for Master of Business Administration with option on strategic management it's because of its market value in the field of business and so certain with the courses modules which am taking now.
Which aspects of the course do you think have been most beneficial to your career development?
The diverse and regional environment is very helpful in my career development. Therefore Furthermore, the modules like Management practice, Strategic Management and Human resource management will helped me to interact with the business community in future and it will help me to solve the real world of business problems and solutions.
What is your favorite memory of KIBU?
There are so many things i like from Kibabii University, so to pick one things among them is being international student and you are being respect and treated like the first born baby in the family is the best thing I like from Kibabii university which I will never forget no challenge at all. I also love how vibrant the KIBU is; there is always something going on: live music, cultural week, seminars, art exhibits, festivals, and more with so much to do, there is never a boring moment!
What are your plans after graduation?
After my course I will immediate go back to my county and look for job and work so now my main focus at the moment is to make sure that I finish my dissertation very fast and then  once is done, I am confident I will find job.
What advice would you give to students progressing from your country to KIBU?
Skills for today's world are the skills that you really need today to find a career? Obviously they are different to the skills that people needed even 5 years ago. Personally branding technology literacy, negotiating and citizenship are just some of key skills that were identified in the study.
Mentorship – will also help on how to recommend any student. Whether it's your personal tutor, an older student, or even a friend that you trust and look up to we all need guidance sometimes. Researchers suggest that in the coming years, mentoring at university can even be provided in part or to make sure that no one misses out.
Real-time feedback on all areas of life knowing about how you are progressing after making the big move to vital, and it's not just about your academic scores. Figures about your health, your reputation on social media, how you are doing in extra-curricular areas like sport or gaming can complement your studies as part of a 'lifelong'. Do everything that means stepping out of your comfort zone, if an opportunity scares you, it means it is only going to make you grow.
Join societies! University isn't all books and assignments. Mingle with people from different cultures and backgrounds; it is like travelling to different countries without spending money on an air ticket. Connecting with peers from different countries and cultures is a vital skill in today's globalized society. Do not be afraid to admit when you do not know something. Ask for help when you need it, I can assure you that 100% people in KIBU are so friendly. With your academic work, never feel ashamed to constantly ask for help. Not only are tutors or lecturers happy to help, you paid for their help too. Take advantage of it.
Master the art of time management and use your time very well and you will achieve more. Avoid procrastination and distraction. Do not over commit yourself to extra-curricular not over stay somewhere doing nothing.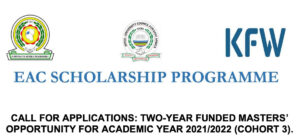 German Development Bank-KFW/East African Community (EAC) Scholarship Programme 2021/2022 for Masters Studies (Fully Funded) Application Deadline: September 17th, 2021 https://bit.ly/3sV1D4Z IUCEA hereby invites suitably qualified nationals
Read More »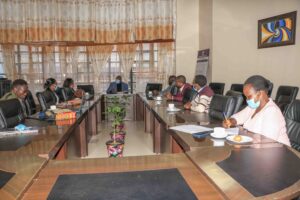 KIBU International Students who are beneficiaries of the East African Community Scholarship Programme paid a courtesy call on the Vice Chancellor, Prof. Ipara Odeo on
Read More »