Course: MSc in IT
Year of Study: One
Nationality: Rwandese
Why did you choose Kibabii University and your course?
It was my sincere desire to pursue Masters in Information Technology aboard and I wanted to gain relevant knowledge in field of IT and be an agent of positive change for my family, country, and EAC in general. I chose KIBU because the IT course programme was very interesting to me, and because of the good things I saw on the website of Kibabii University. 
Which aspects of the course do you think have been most beneficial to your career development?
In my career growth the multicultural and global climate has been very helpful. Additionally, the units like Green Computing, Computer Networks, Information Security Management, Research Methods and Scientific Writing, etc. helped me a lots and gain a noble awareness into real world IT problems and solutions.
What is your favorite memory of KIBU?
There is so much I like about KIBU, so to pick what I like the most is challenging. As someone who likes to go out for coffee and food, I really like the many independent departments and library in the University. I also love how vibrant the
There is so much I like about KIBU, so to select of what I like most is hard. I surely like the many different programs offered by KIBU, the infrastructure and nature of KIBU, university library, university restaurant, people of KIBU are so friendly and helpful. I also like some of the events in KIBU like cultural week, seminars, workshops, conference, etc. with so much to do, there is never a dull moment!
KIBU is; there is always something going on: live music, cultural week, seminars, art exhibits, festivals, and more – with so much to do, there is never a boring moment!
What are your plans after graduation?
Upon completion of my studies, it is my sincere desire to first work in KIBU and after some years I will go back to my country to continue job there. I hope to further do my doctorate to enable me use my valuable expertise to mentor young people and women at any EAC university as a researcher and a professor. Progressively, through community-based partnerships and collaborations, I hope to use my expertise and innovations in ICT to initiate platforms for empowering and inspiring youths and women having interest in ICT by equipping them with practical skills and hands-on experience.
What advice would you give to students progressing from your country to KIBU?
Set goals in their life particularly study, have a good plan for what they what to achieve and how to achieve these goals during their study.
Choose good University like KIBU which offer the extensive course modules, practicals and rigorous scientific research.
Visit the University website to understand more about KIBU and pick one the staff contact like email, telephone number for further clarification and ask if there is any issue concerning the course or the university in general because the people in KIBU are so helpful. Communication is the key.
To be social! School is not just books and assignments. Associate with people from different cultures and backgrounds. In today's globalized world meeting people from various countries and cultures strengthen you not only in study but also in life in general.
Master the art of handling the time. Set out how to use their time in every day activity so that they can finish course on time without any delay.
Remember GOD as their creator and Savior because nothing they can achieve without GOD.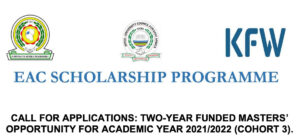 German Development Bank-KFW/East African Community (EAC) Scholarship Programme 2021/2022 for Masters Studies (Fully Funded) Application Deadline: September 17th, 2021 https://bit.ly/3sV1D4Z IUCEA hereby invites suitably qualified nationals
Read More »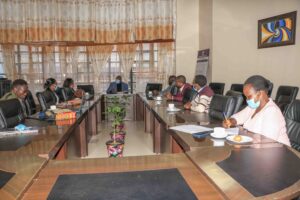 KIBU International Students who are beneficiaries of the East African Community Scholarship Programme paid a courtesy call on the Vice Chancellor, Prof. Ipara Odeo on
Read More »